Please click below button to make on-line payment. Once you click the button, you can type the amount of the payment, and choose "Pay with a debit or credit card" option.

We now offer MLS Laser Therapy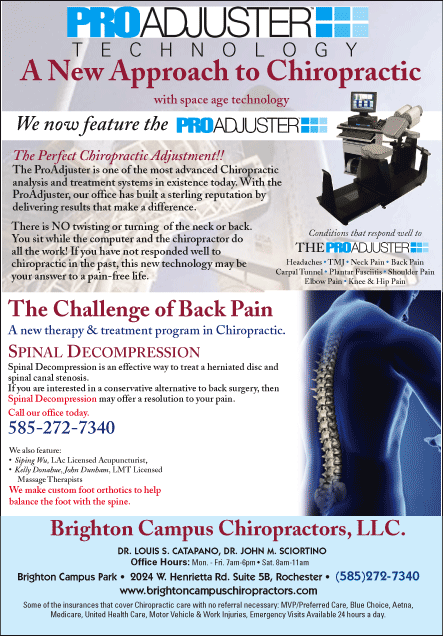 Brighton Campus Chiropractors, LLC.
MISSION STATEMENT
Brighton Campus Chiropractors is proud to be recognized as a worldwide leader in the field of Chiropractic. Brighton Campus Chiropractors is committed to enhance quality of life and promote better health. We strive to maintain a philosophy that our patients deserve the highest quality chiropractic care at a reasonable price accompanied by impeccable service. Brighton Campus Chiropractors is recognized as a company that shows concern for and contributes to our community. Through a long-term commitment to this mission, we will be known as a company that values and respects all people.
Brighton Campus Chiropractors, LLC
2024 W. Henrietta Road, Suite 5B
Rochester, NY 14623
Our email address is:
info@brightoncampuschiropractors.com
You can reach us by phone at:
(585) 272-7340
Our Fax Number is:
fax@brightoncampuschiropractors.com
(585) 272-0562